Let's play with Ise Shima nature!
Ise-Shima National Park has a land area of 55,544 ha and a sea area of 19,100 ha. Designated in 1946, the National Park spans over Shima City, Ise City, Toba City and Minamiise Town. It has the largest settled population of all national parks in Japan. It is characterized by a complex coastline and by a mild climate under the influence of Kuroshio ( the Black Current ) flowing in the south. You can enjoy a wide variety of activities that take advantage of Shima's natural setting. For example : marine activities such as waterball, sea kayaking, paddle boating and just playing on the beach ; taking a historical walk or cycle in the city ; observing wild birds or the starry sky ; or going trekking.
If you want experience the natural environment of Shima, please visit Shima Nature School.
SEA KAYAK
( Reservations required )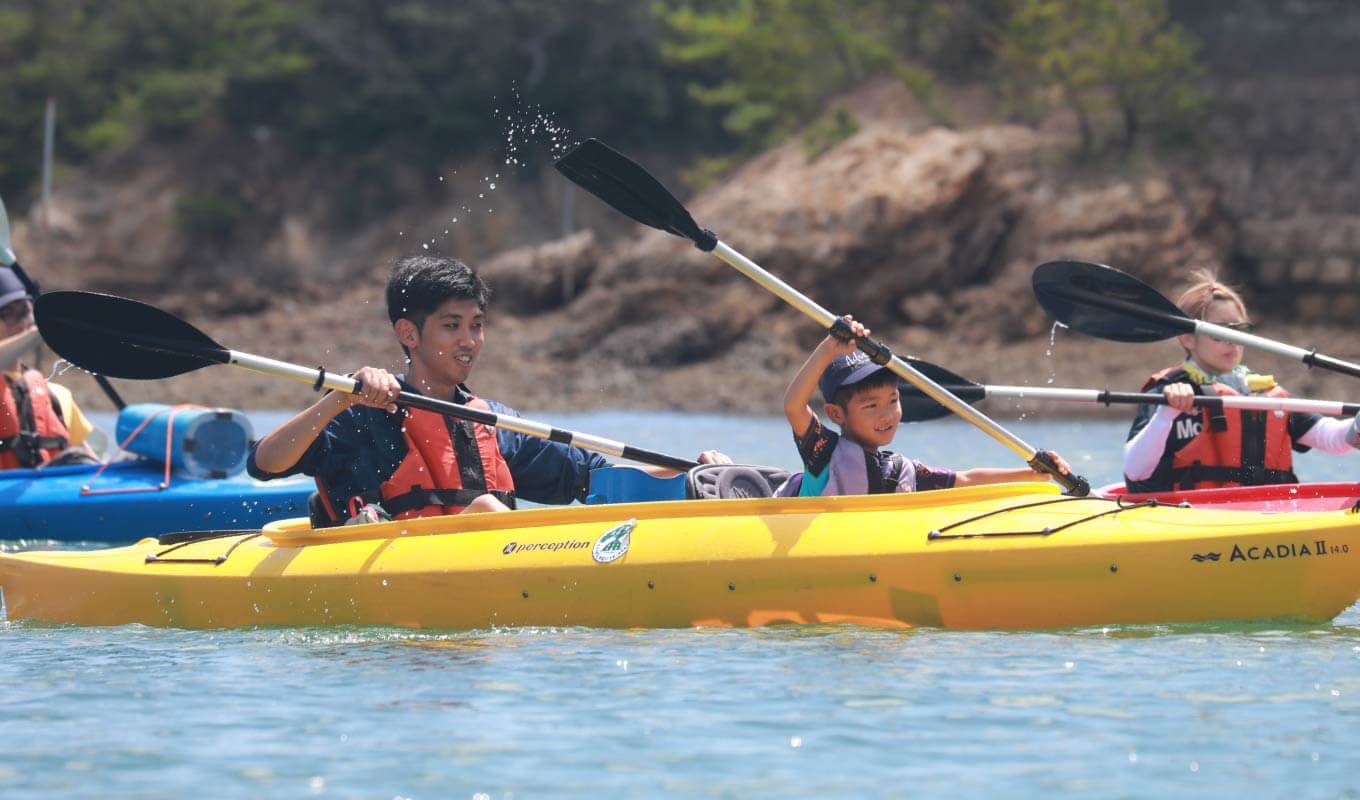 SEA KAYAK
( Reservations required )
Sea kayaking can be enjoyed year-round in Ago Bay. It has a mild climate enabling you to try the sport not only in spring through autumn, but also in winter as long as warm Clothing such as boots and wool caps are worn. The coastline with its intricate network of coves makes for a picturesque and fascinating boat ride. Set off from a beautiful sandy beach and paddle toward an uninhabited island in Ago Bay, then move on to the inhabited island of Masakijima. Here you can disembark and go swimming in the bay in summer, or walk around the island in other seasons.
Thorough, professional guidance by an instructor makes it possible even for beginners to enjoy sea kayaking in Ago Bay. Bring your whole family and steep yourself in the natural splendor of Ise-Shima.
Length of program

1〜3 hours

Fee

【 1.5 hours 】

Adults ¥4,500, children ¥3,500

【 3 hours 】

Adults ¥6,500, children ¥5,000

【 Sunset kayak / 1 hour course 】

Adults ¥5,000, children ¥4,000
WATER BALL
( Reservations required )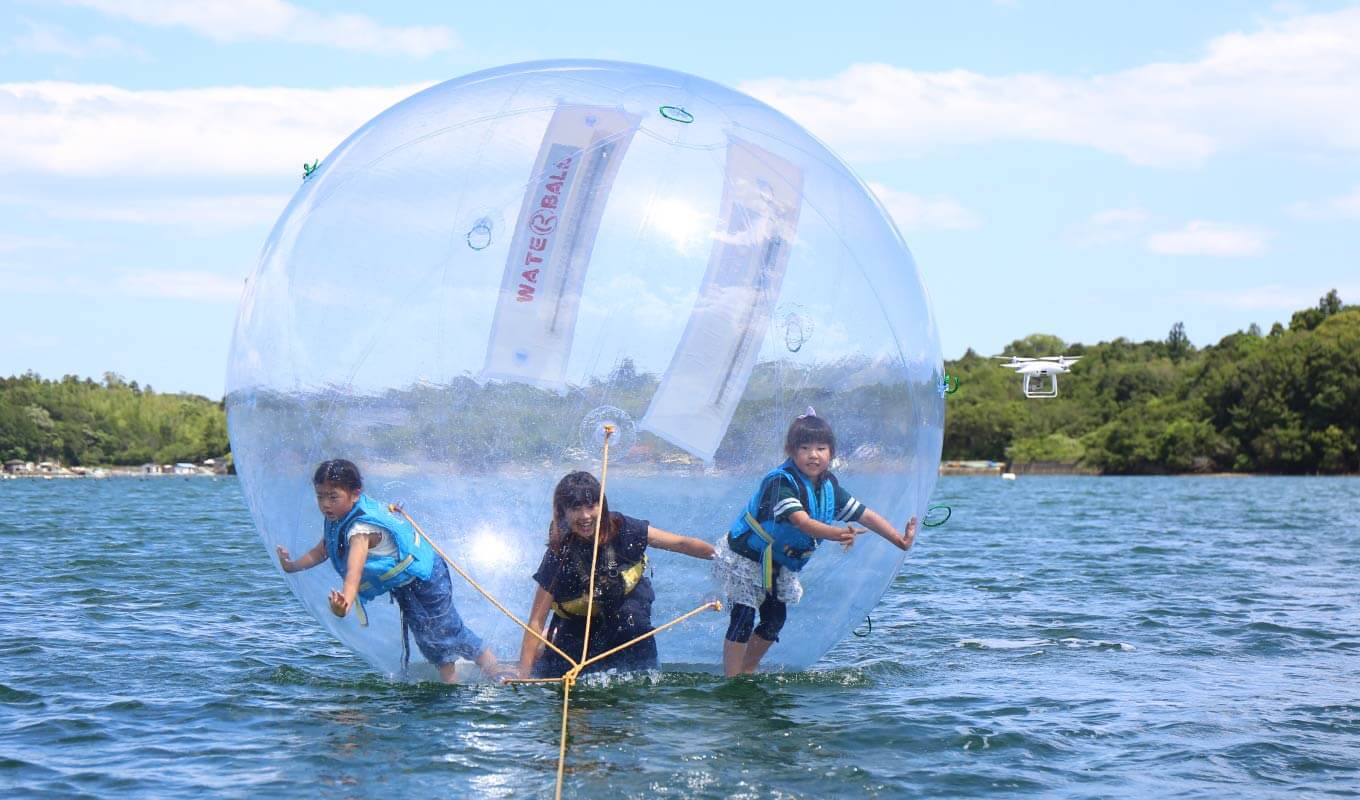 WATER BALL
( Reservations required )
A water ball is a transparent ball eight feet ( approx. 2.5m ) in diameter which floats on the surface of the water, and going inside one is quite a unique experience! Even people who are unable to swim can enjoy a jaunt over the water. As the ball is transparent, you can see underwater and enjoy an ecotourism experience as well. Once inside, you set off over the sea pulled by a boat. Lie down and gaze up at the sky, look down into the water, roll around, try standing up ? there are all kinds of ways to enjoy an unforgettable water ball experience.
Length of program

15 min.
Late afternoon / evening only july through September

Fee

Adults ¥5,000, Children ¥4,000
GUIDE WALK
( Reservations required )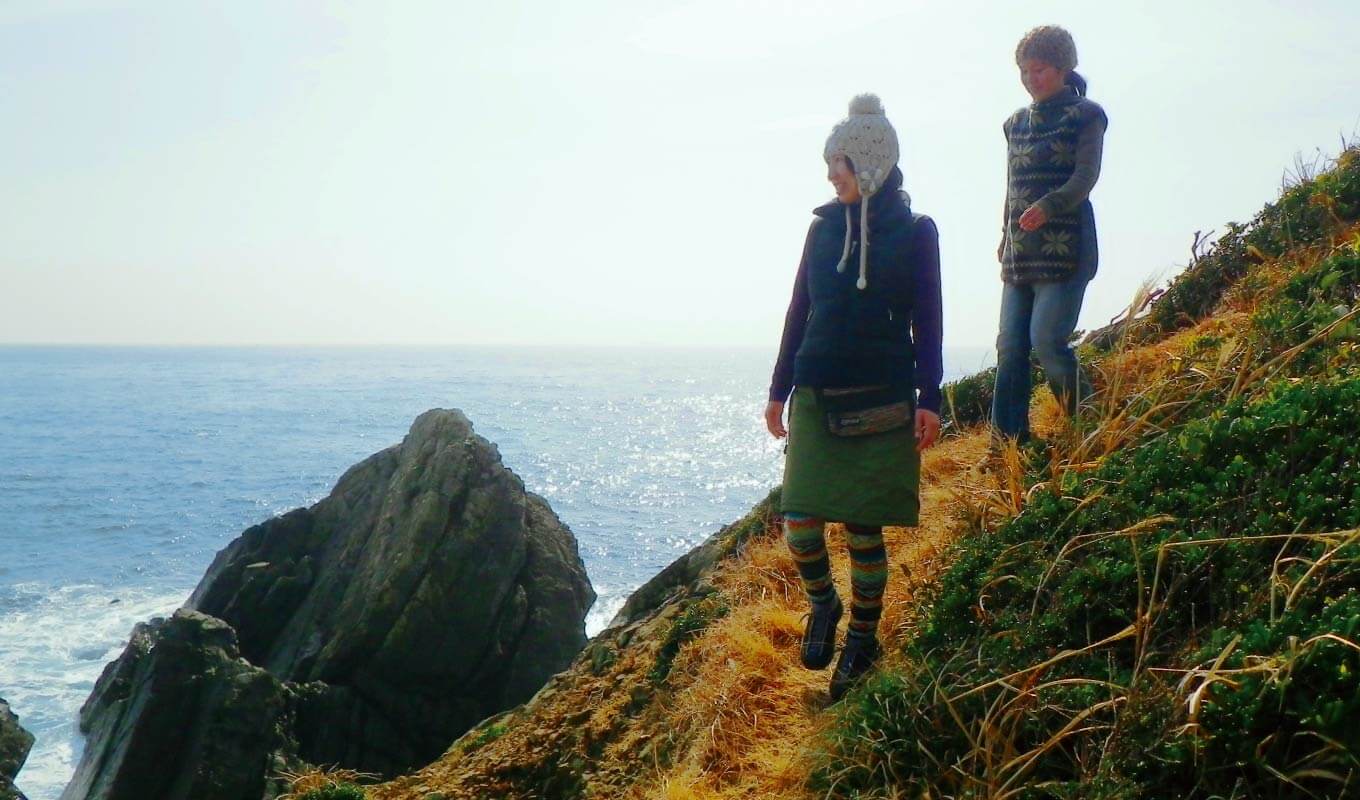 GUIDE WALK
( Reservations required )
Feel the rustic beauty of Japan as you walk through the town, welcomed by friendly guides from Shima Nature School and specialty shop owners. The Shima region is located at the southern end of the Ise-Shima area and is also known as a place of scenic natural beauty whose original landscape is kept intact. The Daiocho area has particularly lovely scenery, and because so many people visit ther to paint a picture, it is known as a painter's town. A walk through Shima can give you a deeper appreciation of the simple ways of living and for the old traditional lifestyle of Japan. Classic temples, local businesses that supply Japan with its key ingredients, and picturesque views for painters can all be found in the charming town of Shima.
Length of program

Approx. 2 hours

Fee

¥3,200~
CYCLING GUIDE
( Reservations required )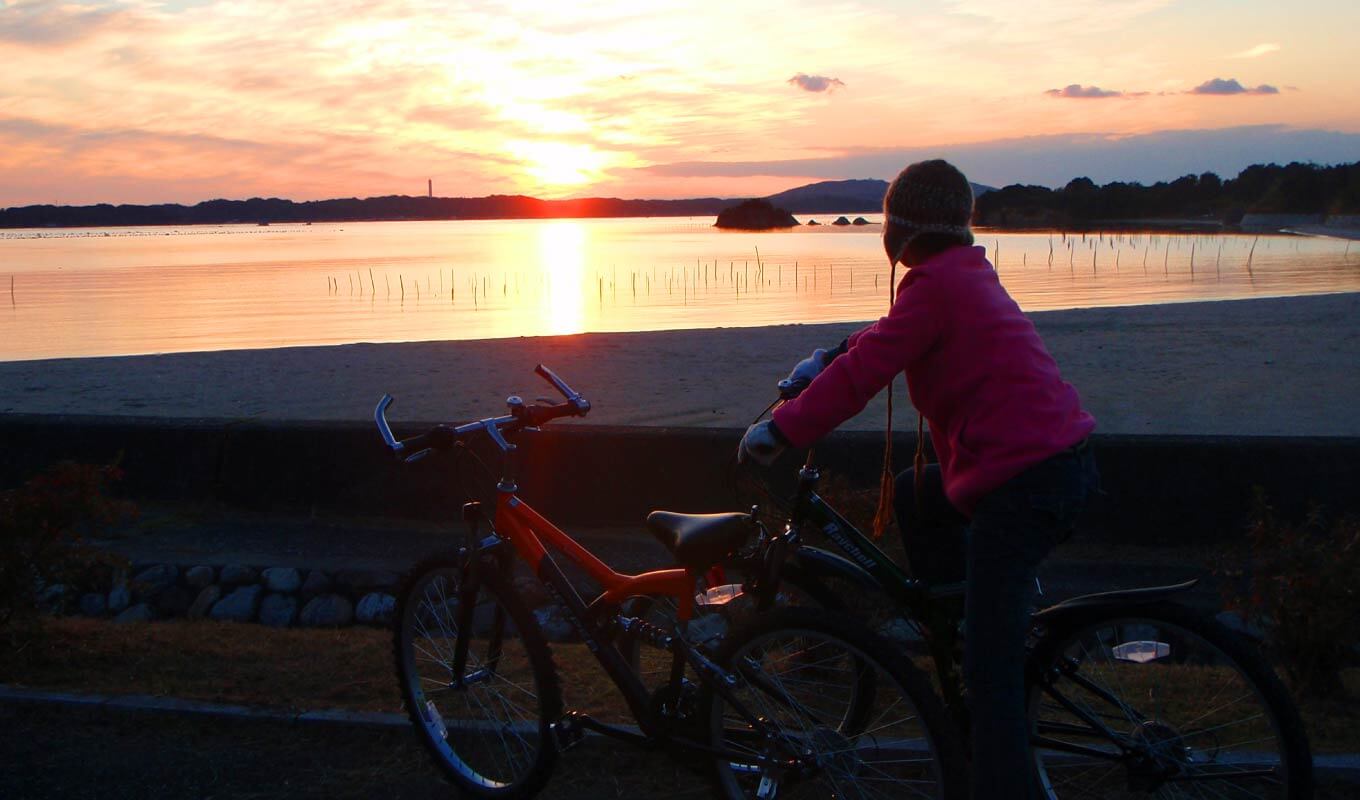 CYCLING GUIDE
( Reservations required )
The Ise-Shima area is a rarity in Japan in that it is surrounded by a marine national park. The intricate coastline features rias, which are inlets resembling fjords, with unique terrain including sea cliffs and coastal caves. A wide variety of activities can be enjoyed in this marine national park. Feast your eyes on the beautiful scenery and commune with the mountains and sea that make Ise-Shima such an unparalleled sightseeing destination.
Length of program

2 hours

Fee

¥3,000
Power-assisted bicycle ¥4,000
Guided tour extension per hour ¥1,000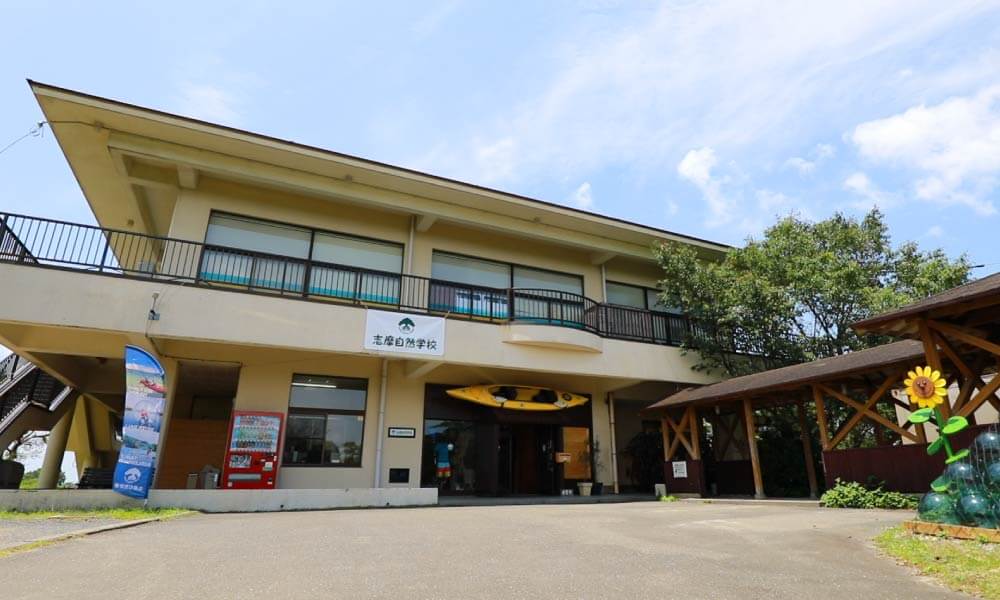 Shima Nature School Nakiri 2199, Daio cho, Shima City,
Mie Prefecture 517-0603
Tel ( +81 ) 599-72-1733
Normally, you will meet at the reception desk of Shima Nature School, but the meeting place may differ depending on the experience program. In that case, we will inform you at the time of application, so please come to the designated place.

There is no public transportation to the property. If you come by train, the nearest station is Kintetsu Ugata Station or Kashikojima Station. From there, rent a car or take a taxi. It takes about 20 to 30 minutes.
Please contact us for the latest information as new modes of transportation such as sea taxis may be available.